The Plastech Story
Founded in 1956 in Minneapolis, Plastech relocated to Rush City, Minnesota, in 1962. Over nearly seven decades, Plastech has grown into an award-winning, full-service contract injection molder that collaborates with customers to create customized project solutions. Our locally owned company has since become the second largest manufacturing employer in Chisago County, with over 300 dedicated employees.
1956 Star Tool was started in Minneapolis by Duane Stenmo and three partners. 
1961 Star Tool was renamed as Plastech Research. The company struggled to get on its feet and the three partners dropped out, leaving Stenmo as the sole owner.
1962 The Rush City Development Corporation persuaded Stenmo to move Plastech to Rush City. They moved into the former Ford garage with three injection-molding machines, two toolmakers—Earl Albee and Dick Schellbach—and two customers—Frederick-Willys pool-table parts and Herter's duck decoys and shotgun wads.
1962 Later that year, Rush City Development Corporation members—including Rush City businessman Dennis Frandsen—purchased ninety percent interest in the company. Stenmo agreed to run the technical and sales functions of the company. Frandsen agreed to handle the administrative functions for no pay until the company became profitable.
1963 Frandsen became majority owner and president of Plastech Research (later renamed Plastech Corporation). Gross sales were $116,000 that year.
1964–1967 Plastech saw steady growth with the addition of major new customers including snowmobile manufacturers Ski-Doo, Arctic Cat, and Polaris, along with K-tel International, the original "As Seen on TV" infomercial giant. By the end of 1967, gross sales were at $422,000—an increase of more than 350 percent in just four years. The company had no loading dock or forklift; all raw materials and finished goods were unloaded by hand, one bag or box at a time. Shipping boxes came from local merchants and warehouse space was rented at local businesses and farms, even the county fairgrounds. Parts were hauled in pickups and even farm wagons.
1968 Plastech rented a vacant commercial building on the south end of Rush City and moved some molding machines into that space. The first computer was installed in the office.
1969 The company rented another building—a former creamery on the north end of Rush City. They moved the tooling division there and later some injection-molding machines and assembly operations. Additional rental space had to be procured in places as far away as Pine City, Minnesota. Farm buildings became rented warehouse space as needs arose.
1970 All American Snowmobile Parts Company, a wholesale distributorship, was formed as a subsidiary of Plastech.
1971 Plastech purchased twenty acres of land in the new Rush City Industrial Park at $1,000 per acre. Plans began to take shape to build a new molding plant and move all divisions under one roof.
1972 A branch sales and engineering office was opened in St. Paul.
1973 Plastech moved from downtown Rush City to its newly constructed, 36,000-square-foot plant. The company started an on-the-job training program for local graduating seniors from Rush and Pine City high schools.  Dennis Frandsen took All American Snowmobile Parts to the retail market with a nationwide direct-mail catalog, and changed the name of the company to Dennis Kirk.
1974 Plastech's growing pains continued and the company added another 21,000 square feet onto the plant plus 60,000 square feet of outside warehouses.
1975 Plastech presses were turning out significant amounts of underground cable connectors for Condux International of Mankato, Minnesota; potty-chair components for North States Industries of Minneapolis; .22 rifle-shell trays for Federal Cartridge of Anoka, Minnesota; insulated tumblers for West Bend Thermo-Serv of West Bend, Wisconsin; and canoe paddles for Cannon Products of Minneapolis. Whirlpool, Tonka Toys, and 3M were just beginning what would become lengthy relationships with Plastech.
1976 Plastech created a separate tooling division as a result of the acquisition of the Starmold division of Twin Tool in Hugo, Minnesota. This was the first of twenty acquisitions the company would make in succeeding decades, several in Minnesota as well as Wisconsin, Michigan, Florida, and New Mexico. Each acquisition added new customers and new product capabilities.
1977 Frandsen sold Dennis Kirk, yet it remains one of the leading independent distributors of snowmobile, motorcycle, and ATV parts and accessories in the world—still located across the street from the Plastech plant in the Rush City Industrial Park.
1978 Plastech founder Duane Stenmo, his wife, daughter, and a friend all died in a tragic plane crash just a few miles from Rush City, stunning Plastech leadership, staff, and the community. Nevertheless, explosive growth continued with the addition of another 43,000 square feet of production space, bringing the Rush City plant to over 100,000 square feet. New customers included Sub-Zero, Toro, and Motorola. The company opened a new tooling division in Maplewood, Minnesota.
1981 Plastech purchased R.C. Company of Tampa, Florida, a manufacturer of plastic hair curlers, and transferred operations to Minnesota. Frandsen's son Bob established RC Company of Rush City to perform assembly operations for the curlers. RC Company later acquired a line of luminarias (decorative bag-and-candle lights) and expanded it to hundreds of decorative lighting and novelty products that were sold all over the country. Operations were phased out in 2008.
1983 Plastech opened a sales office in El Paso, Texas.
1984 Plastech built a new molding plant in Albuquerque, New Mexico.
1986 The satellite tooling divisions were merged into the Rush City plant.
1994 Dennis Frandsen donated 117 acres of land on West Rush Lake near Braham, Minnesota, to Chisago County—the largest donation the county had ever received. Today the land is a public park known as Dennis Frandsen County Park.
1997 Plastech built a new plant in Amery, Wisconsin.
2003 Plastech closed the last of its satellite plants and consolidated its entire operation in Rush City.
2012 A new state-of-the-art tool room was constructed, adding 13,000 square feet to the plant.
2016 Dennis Frandsen initiated a beneficent relationship with Lakes Region EMS and donated a hangar at the Rush City Regional Airport to house a life-support helicopter and fully renovated the entire facility as a base for the ground ambulances and crew.
2018 The Frandsen Family Foundation announced it would offer full two-year scholarships plus an allowance for books to any 2018 Rush City High School graduate who attends Pine Technical & Community College in Pine City, Minnesota.
2019 Frandsen Corporation purchased the former Lakeland Tool & Engineering in Anoka, Minnesota, along with its satellite plant in Frederic, Wisconsin. The Frandsen two-year scholarship offer was extended to all high school graduates in Braham, Minnesota, and Luck, Wisconsin, and the choice of schools was expanded to other technical and community colleges in the region.
2020 Frederic, Wisconsin, was added to the list of high schools eligible to receive the Frandsen two-year scholarship.
2021 Jerry Miller, an employee of Plastech for over thirty years, was appointed as General Manager. 
2023 The company added 33,000 square feet for indoor storage of raw materials, components, and molds. This addition brought the Rush City plant to a footprint of 140,000 square feet, or over three acres under one roof. The Anoka plant was sold and all operations were moved to Rush City.
2023 A secondary production facility was opened in the former Lakeland Mold building in Frederic, Wisconsin, to expand capacity and grow the business.
A Look at Plastech's Rich History
Dennis Frandsen: Entrepreneur
For sixty years, Plastech has had a single owner, Dennis Frandsen. That stability in leadership combined with solid financial strength over the years has allowed us to continually expand our capabilities, improve our offerings, and strengthen our technologies.
Dennis Frandsen and the Frandsen Family Foundation are committed to supporting our community through a variety of charitable initiatives. Notably, the Frandsen Family Foundation Scholarship promises to pay for two years of tuition to a local technical college for graduates of five local high schools.
The Frandsen Family Foundation continues to support Lakes Region EMS, the ambulance service that services major portions of east-central Minnesota and northwest Wisconsin. In addition to the aircraft hangar, Frandsen donations include a tractor and cart to tug the life-support helicopter in and out; major improvements at all Lakes Region EMS bases; one fully equipped new ambulance for northwest Wisconsin; and equipping the entire ambulance fleet with hydraulic gurneys.
Frandsen is also a Minnesota State High School League sponsor and a major contributor to Mayo Clinic.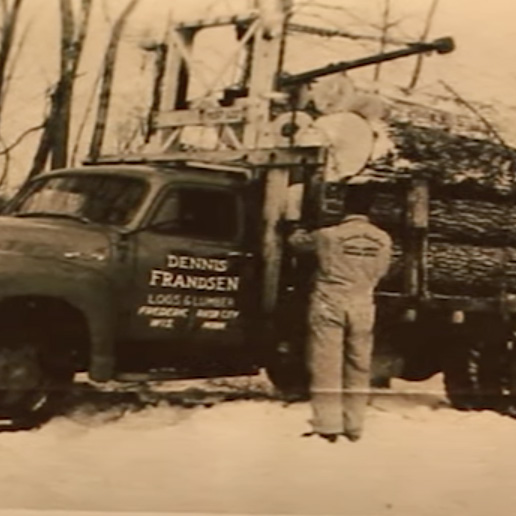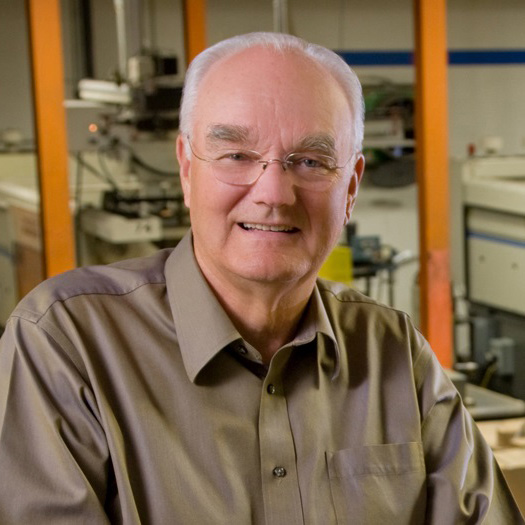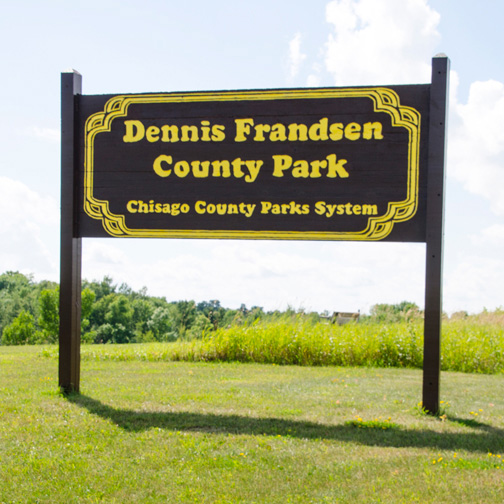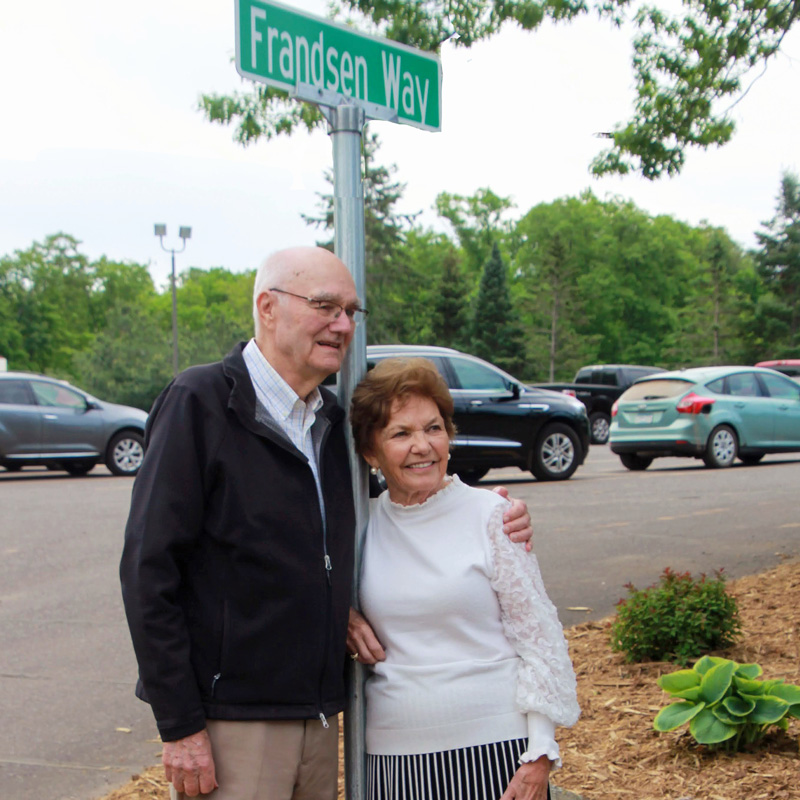 The Frandsen Way: The Dennis Frandsen Story
Our Mission + Goal
Mission: To provide best-in-class, complete project solutions for custom plastic injection molded and assembled products at the best overall value.
Goal: To provide unmatched proactive, responsive, and flexible technical solutions
Our ROLE
Recognize challenges are opportunities to succeed together

Open, honest, and fair communication

Listen to customer needs and take action

Educate, empower, and appreciate employees
Our 26 Fundamentals
From the very beginning, the success of our business has been the result of the behaviors and exceptional efforts of our employees. And at the foundation of our exceptional employees is an extraordinary culture. Our "26 Fundamentals" define our unique culture. They're what set us apart and drive our continued success. Each week, we feature a different fundamental on campus, from "Lead By Example" to "Have Each Others' Backs." Employees who exemplify these fundamentals are rewarded for their hard work and great attitude. We call this approach The Frandsen Way.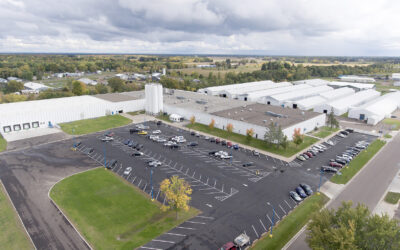 Client Profile A large manufacturer of dehumidifiers and air-handling equipment, used to control moisture and humidity in a wide range of commercial and industrial applications. Business Situation Demand for a specific client product line would surge following natural...