Injection Molding Services for the Agriculture Industry
Your comprehensive injection molding partner proudly located in Rush City, MN
Get a Free Quote
Injection Molding for the Agricultural Industry Since 1963
As a leading provider of customized plastic molding solutions, we pride ourselves on offering the highest level of expertise and innovation to our clients in the agriculture sector. Our team of skilled professionals has extensive experience in providing customized solutions for a wide range of applications, from irrigation and seed planting to crop protection and more.
We utilize advanced manufacturing methods to produce top-quality components that are designed to meet the exact specifications of our clients. We believe in working closely with our clients to fully understand their needs and preferences, and then designing and manufacturing components that exceed their expectations.
The agriculture industry requires plastic components that are both durable and reliable, withstanding harsh outdoor conditions and repeated use. These components are used in a variety of applications, including crop irrigation systems, livestock equipment, and storage solutions. For example, Miller Manufacturing is a large producer of farm, ranch, and pet products that is also under the Frandsen Corporation umbrella. Plastech works extensively with sister company Miller Manufacturing to create high-quality buckets, feeders, scoops, and other plastic products. Here are some examples of parts we've produced for our agricultural sector partners: 
Buckets 
Lawn mower bodies 
Auger hoppers 
Muck tubs 
Poultry feeders
Pet waterers and chow towers 
Cattle prod casings 
Stock tanks
With years of experience in the industry and a strong commitment to quality, we have built a reputation as a trusted partner for agriculture businesses across the country. Whether you require a one-of-a-kind component or high-volume production, we have the expertise and resources to meet your needs.
Why do clients love working with Plastech?
Methods for Creating Plastic Agricultural Parts
We use a range of plastic manufacturing methods to produce custom plastic components for agriculture companies. One such method is injection molding, which is used to produce complex and intricate shapes with high precision and consistency. This method is ideal for producing parts with tight tolerances and intricate designs, ensuring that they are both functional and aesthetically pleasing. We also offer insert, foam, and gas-assist molding when appropriate.
In addition to manufacturing your parts, we offer a range of value-added services to support your program. Customized secondary options include decorating, bonding and fastening; verification testing; and assemblies/sub-assemblies.
Best In Class Plastic Solutions for Agriculture
Working with Plastech has many benefits for agriculture companies. Our state-of-the-art facilities and equipment allow us to create high-quality plastic components that meet your unique needs, ensuring that your equipment operates efficiently and safely. Additionally, we have several quality control measures and certifications in place to ensure consistent results.
At Plastech, we take pride in our commitment to quality and customer satisfaction. Our team of experts is dedicated to delivering innovative solutions that meet your needs and exceed your expectations. If you are an agriculture business looking for a reliable and efficient plastic molding partner, consider Plastech. With our advanced plastic manufacturing methods, expertise, and commitment to quality, we can help you take your products to the next level. Contact us today to learn more about our services.
FAQs About Agricultural Injection Molding
What types of plastic components does Plastech create for the agriculture industry?
Plastech specializes in creating custom plastic components for the agriculture sector. We can produce a wide range of parts used in applications such as irrigation systems, livestock equipment, storage solutions, and more.
What plastic manufacturing methods does Plastech use for agricultural components?
Plastech utilizes various plastic manufacturing methods, including injection molding, to create high-quality agricultural components. Injection molding allows us to produce complex shapes with precision and consistency, ensuring that the parts meet tight tolerances and design requirements.
What are the benefits of working with Plastech for agriculture businesses?
By partnering with Plastech, agriculture companies can benefit from our expertise, advanced facilities, and commitment to quality. We provide customized solutions that meet your specific needs and support your program with value-added services such as decorating, bonding, verification testing, and assemblies/sub-assemblies.
How does Plastech ensure the durability and reliability of agricultural components?
At Plastech, we understand the demanding conditions that agricultural components must withstand. We use advanced manufacturing methods and quality control measures to create durable and reliable plastic components that can endure harsh outdoor conditions and repeated use.
Why should I choose Plastech as my plastic molding partner for agriculture components?
Plastech has a strong reputation as a trusted partner for agriculture businesses. With our years of experience, commitment to quality, and dedication to customer satisfaction, we can deliver innovative solutions that exceed your expectations. Whether you need a unique component or high-volume production, we have the expertise and resources to meet your needs in the agriculture industry. Contact us today to discuss your requirements and discover how we can assist you.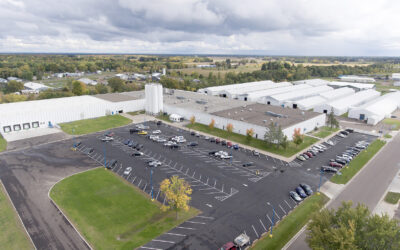 Client Profile A large manufacturer of dehumidifiers and air-handling equipment, used to control moisture and humidity in a wide range of commercial and industrial applications. Business Situation Demand for a specific client product line would surge following natural...